About 911 Restoration of Fresno
An Owner with a Unique Perspective
911 Restoration of Fresno is owned by AJ Singh, an active community member and family man who loves sports such as cricket, football, and golf.
Originally from Michigan, AJ decided he and his family needed a change, so they relocated to Fresno. He felt there was a lot of opportunity in Fresno, plus the weather was much nicer, which is a great bonus. AJ first became aware of 911 Restoration through another owner of a 911 Restoration franchise. It was thanks to this friendship and sense of familiarity that AJ felt comfortable with joining 911 Restoration to deliver the Fresh Start philosophy to the residents of Fresno and the surrounding areas.
As owner and operator of 911 Restoration of Fresno, AJ helps both residential and commercial customers through every step of their emergency restoration. The company delivers water damage restoration, fire and puffback cleanup, mold remediation, and disaster restoration, among other services, from start to finish. AJ is determined to make sure that his IICRC certified team consistently delivers the best results without compromising on the care and personal attention that sets 911 Restoration apart from everyone else.
AJ's professional background is diverse, which has provided unique insight that most owners don't have in taking care of their customers. He has worked a long time in the retail industry, where he honed his customer-first mentality. Plus, he's been on the side of the customer when problems occur. He knows the pain of trying to keep things moving as usual when going through a restoration. This unique perspective is what allows AJ and his team to be different and go beyond simple restoration for their customers in the Fresno area. 
AJ is deeply committed to the community, as shown in his personal life. He and his family are active in the church and various volunteer programs because he believes in giving back to the community. If there's one thing he values more than anything else, it's honesty. In AJ's experience, honesty is what prepared him for what he's doing now. It's also the one thing customers need when learning about their restoration needs. AJ and his team are standing by to walk you through every step of your emergency restoration, ready to answer any questions you may have.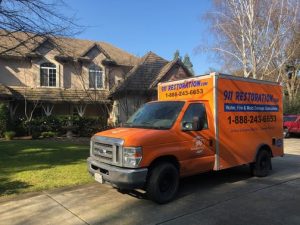 A Fresh Start 24/7/365
Besides amazing service, AJ and his team of technicians at 911 Restoration of Fresno make sure they're available to handle your restoration needs at any time. Disaster can strike at any time, which is why our IICRC certified technicians are available 24/7/365 to do what it takes to restore your property to good as new. For us, it's not enough to be available; we also strive to deliver the best response time, which is why we guarantee our arrival within 45 minutes of receiving your call, day or night.
Our IICRC certified technicians have honed each and every process to perfection thanks to our commitment to training and learning from our experiences. Whether you're facing a flooded basement, a fire, or any other emergency, you can count on us to tackle every aspect of your restoration with the speed and expertise you need for a Fresh Start.
Personal Care From 911 Restoration of Fresno
AJ and his team don't just deliver superior service at fast speeds. They also provide personal care at every step for a true restoration. What this means is they put themselves in your shoes. That damaged bedroom? They treat it like it was their own. The flooded backroom of the store? It might as well be their backroom. 
That's why the team works with a sense of urgency and attention to detail that is difficult to find anywhere else. Plus, AJ and his team are available during the restoration itself to guide you through the insurance claims process along with any other questions you may have during such a difficult and challenging time. In fact, they'll even help file the insurance claim for you so you can relax knowing that the help you need is on its way.
This approach is what AJ invested in, because it's not just a motto from a company. It's a way of life. Compassion and the Fresh Start mindset are the cornerstones of 911 Restoration of Fresno, which is why you can expect the best service along with personal attention for your next restoration that truly restores the property and your life back to good as new. Don't wait to get the Fresh Start you've been waiting for.