Mold Removal in Fresno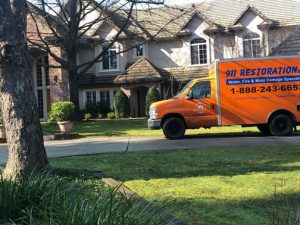 Looking for a company to get rid of mold in your house or business? You've come to the right place. 911 Restoration serves Fresno, Madera, Clovis, and the surrounding community with reliable mold removal services. We cover everything from a free visual inspection for property owners to mold damage repair. Call us at 559-795-1670 and see how we can help.

Our IICRC certified mold decontamination technicians are experts in every aspect of mold cleanup. They're also compassionate human beings who understand what you're going through. You can count on them for clear communication, transparent practices, and focused attention.
911 Restoration of Fresno provides mold remediation for both residential and commercial properties. No matter what type of property you own, it's important to call for a professional mold inspection when you suspect the presence of fungus. You might have an infestation if you notice:
Unsightly splotches on the wall or ceiling

Slime in your pipes

A mildew-like odor coming from inside the structure of your property

Frequent, unexplained headaches

Dizziness when you wake in the morning
Do not put off mold removal. This organism eats away at everything from wood to glue to wallpaper. Most types of mold release particles that put you at risk for a range of mild to severe health conditions. If you're a homeowner, your refuge, your health, and your family's wellness are at risk. If you own a business, delaying mold cleanup could cause damage to your bottom line and your relationship with customers. 
When you have 911 Restoration of Fresno, there's no reason to wait on mold remediation. All you have to do is call. We take care of everything else. 
For fast, effective mold cleanup in Fresno and beyond, call 911 Restoration today at 559-795-1670.
Comprehensive Mold Remediation and Restoration
Wondering what mold remediation companies actually do? Well, it depends on who you hire. 911 Restoration of Fresno is dedicated to providing comprehensive mold cleanup. That means we cover every service necessary to turn your contaminated property into a clean and healthy refuge.
First, our technicians make sure every growth is accounted for. They do this by performing a thorough mold inspection. Because mold spores travel through the air, an infestation on your bathroom wall could spawn a second growth in your crawl space. Even if you can already see mold on your property, we follow up with a mold inspection to ensure there's no hidden growth. And if you've recently had water damage, our technicians are careful to examine those areas where moisture may have lingered too long.
Once the mold inspection crew has uncovered every growth, they devise a strategy for mold removal. Each type of fungus presents its own set of risks and considerations, from black mold to white mold. Our expert team is careful to employ the safest and most effective methods for your specific infestation.
After mold decontamination, the workers use professional tools to dehumidify the structure down to its core. Fungus often thrives on structures where moisture is not only present on the surface but also stored deep within. Without structural dehumidifying, that moisture rises to the surface over time, putting you at risk of a repeat infestation. 
Finally, our mold decontamination experts test for structural damage or weakness. If they discover a problem, they repair it personally. Their ultimate goal is to provide a Fresh Start for you and your property.
If you need mold remediation in Fresno or the surrounding area, reach out to 911 Restoration. It only takes one call to make your property brand new again. Call us at 559-795-1670

Why Should You Choose a Certified Mold Specialist?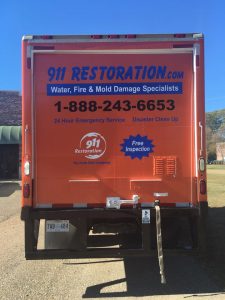 Mold cleanup sounds simple enough. That's why it's the one area of property restoration where owners often try to cut corners. From home remedies to questionable mold removers, many property owners try to minimize their costs. The hard reality is that these methods cost you big in the long run.
A certified mold remediation company does far more than basic mold cleanup. At 911 Restoration of Fresno, we address the cause of the problem to ensure your problem is unlikely to return. Our mold inspection crew is relentless in uncovering every trace of growth. Without such an inspection, a hidden colony could be left to thrive and cause extensive destruction over time. It also takes a certified specialist to oversee preventative measures such as structural drying and dehumidifying.
You also cannot forget to calculate the high cost of health problems. Toxigenic fungi such as black mold release mycotoxins into the air you breathe. As mycotoxins collect in your system, they cause a state of toxicity. This can lead to health issues as severe as heart conditions. But black mold is not the only fungus that poses a threat to your wellness. Most varieties are at least allergenic or pathogenic. Without immediate mold removal, an infestation can cause allergies, asthma, or a variety of illnesses. And if there is anyone in your home or business space who has a compromised immune system, prompt mold decontamination is non-negotiable.
At 911 Restoration of Fresno, we understand that mold contamination leads to a host of worries. We do all we can to deliver peace of mind and minimize the cost of mold remediation. Count on us, and you'll save big in the long run. Call us at 559-795-1670

Serving the communities of Auberry, Clovis, Tarpey Village, Madera and surrounding areas.