Sanitization Services in Fresno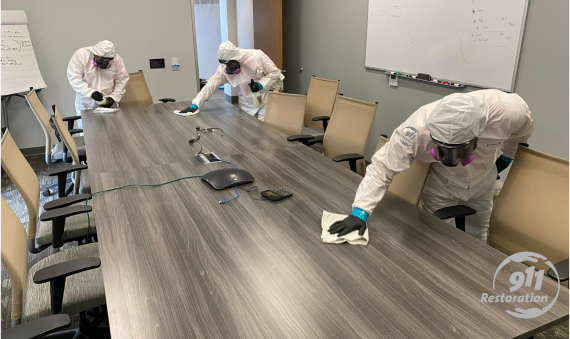 The coronavirus pandemic presents a challenge that we must approach as a community in Fresno. The virus spreads quickly and can cause serious illness or even death. We can all take steps to slow down the pandemic by taking certain steps as advised by the CDC and the EPA. Make sure that you:
Maintain social isolation as much as possible

Practice good hand washing techniques

Keep a social distance between others when out and about
You can also take steps to keep your property professionally sanitized. The experts at 911 Restoration of Fresno use specialized techniques to kill the coronavirus on surfaces around your business or home. You can reach out to us right now to set up a schedule for cleaning and sanitization services in Fresno.
As a locally owned and operated business, 911 Restoration of Fresno can provide you with fast disinfection solutions. Our crews can reach your property within an hour to review your needs. We can discuss your options for office deep cleaning, commercial sanitization, and more. Allow us to sanitize your retail space, store, or residence. We're standing by to do our part for you during the coronavirus pandemic. Call us at 559-795-1670 and see how we can help.

Standards for Professional Sanitization in Fresno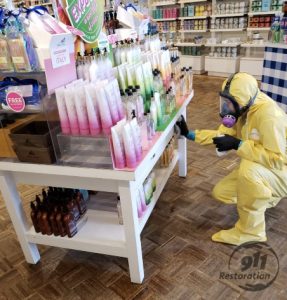 Many people in Fresno are concerned about how quickly the pandemic virus can spread. It can be left behind on surfaces in your business or home by infected individuals. Note that even individuals who are not symptomatic – that is to say, they are not coughing or sneezing – can leave behind traces of the coronavirus to infect others.
The CDC and EPA have issued recommendations on how to kill the virus on surfaces. Sanitization specialists at 911 Restoration of Fresno utilize all the most-recent guidelines from both the CDC and the EPA. We offer fast, professional sanitization services to commercial and residential property owners throughout the Fresno area.
Our crews are here to support you if you provide an essential service and must remain open during the pandemic. We can help you set up disinfection solutions in Fresno that meet your unique needs. You can help your customers and employees maintain their peace of mind by setting up a regular schedule for cleaning and sanitization.
911 Restoration and Fresno also provides sanitization services to businesses that temporarily closed to slow down the pandemic. We can focus on sanitization and disinfection to make sure you feel ready to reopen to your customers. Review all of your options for sanitization by contacting us 24/7/365. Call us at 559-795-1670