Commercial Restoration in Fresno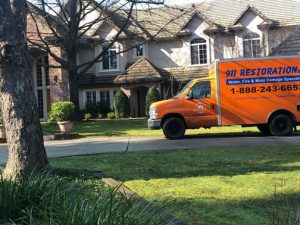 As a locally owned and operated company, we care deeply about the businesses that make our community great. For 911 Restoration of Fresno, commercial restoration is more than another service we provide. It's a personal passion. When you need water damage restoration, fire cleanup, mold remediation, sewage extraction, or any other disaster restoration service, count on us to bring you our very best.
Our commercial restoration technicians treat your disaster as if it were their own. They understand that even a minor mold infestation poses a threat to your livelihood. That's why they work quickly to resolve every problem. This includes a guaranteed 45-minute response time for emergencies and 24/7/365 availability. When you need us, we're there. It's that simple.
We also realize that you wouldn't get where you are if you didn't have high standards. Rest assured, our commercial restoration techs rise to the occasion. Every member of our staff is IICRC certified and highly trained. They are equipped to provide full property restoration in any disaster. From water extraction and smoke removal to structural repairs and mold decontamination, they do it all. And you can be certain they can take care of your property, no matter what type of business you own. No structure is too vast, too complicated, or too delicate. 911 Restoration of Fresno is licensed, insured, bonded, and backed by the resources and pristine reputation of a nationwide company.
To put it simply, we've got you covered no matter what. Whether you've had a pipe burst or property fire, a sewage backup or earthquake, count on 911 Restoration of Fresno.
24/7 Water Damage Restoration in Fresno and Beyond
While 911 Restoration covers all types of disaster restoration, we get the most calls for water damage restoration. This is because water damage is very common, both as a standalone problem and as a side effect of other disasters. Either way, you can always count on us to treat your water emergency with the urgency it deserves.
As a business owner, you cannot afford to wait on water cleanup. Not only does waiting hurt your bottom line, it also leads to costly damage. The longer water sits on your property, the more vulnerable the structure is to rotting and mold development.
This is why our water damage restoration technicians are on call 24/7. You can reach us any time of the day or night, 365 days a year. And when your call comes in, our water damage restoration workers are there in 45 minutes or less, guaranteed.
As soon as they arrive, they work quickly to save your property from significant damage. They provide a free visual assessment for property owners. They see to any urgent needs such as boarding up or storm repair. If any inventory or belongings are at risk of damage, the crew packs out those items for safe storage. Then, they swiftly extract the water or sewage and dry the space completely.
At 911 Restoration, we pride ourselves on providing restoration services. This means our job isn't done just because the water is gone. After water removal. The commercial restoration technicians test for structural damages. If they find a problem, they repair it themselves. They also provide a reliable mold inspection and complete mold remediation.
With 911 Restoration of Fresno, you don't have to worry whether your business will still be the same inviting space it once was. For commercial water damage restoration, count on 911 Restoration for a Fresh Start.
Free Insurance Consultation for Commercial Restoration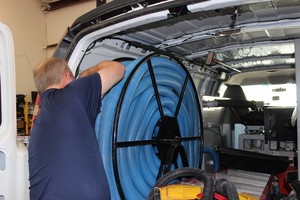 When disaster strikes, you've got enough to worry about without adding insurance to the list. Commercial restoration service can be complicated, as most property incidents require multiple services at once. If your policy covers water damage restoration, does that include drywall repair and mold removal? What about commercial fire cleanup? Does your provider pay for both odor removal and sodablasting?
Don't stress. We're here to guide you through with a free insurance consultation. A member of our staff sits down with you to review your policy. They give you a clear picture of what you have to pay for and what your provider covers. Then, they help with inventory and loss itemization. They even file your claim for you, and they bill your provider directly so you don't have to think about it. 
There is one assurance we can offer before we even glance at your policy: we take your insurance. 911 Restoration works with all types of insurance so our valued customers can receive the top-tier service they deserve.
If you need commercial restoration in Fresno, Madera, Clovis, or the surrounding area, don't settle for less than excellent. Call 911 Restoration for exceptional service and genuine care.