Kitchen Cabinets
Your kitchen is one of the first impressions that people get of your home, and that is why our with 911 Restoration Fresno wants to give you a look that will impress, with high quality, durable materials that will make your kitchen cabinets last for years to come.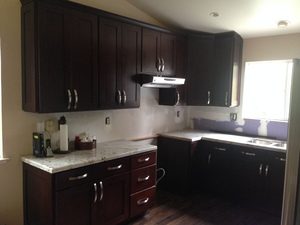 Cabinets are a perfect way to spice up any kitchen, or they can be the focal point to start with when doing a total remodel of the room.
We source our cabinets from all of the hottest products in the industry, and we have partnerships with leading manufacturers that allow us to make any look you want to achieve a reality.
Your kitchen, the cabinets in it, and the countertops that support them send a message to anyone who enters your home, and it is our job to make sure that this message is one of inspiration, culinary excellence, and that represents who you are as the master of that room.
We can work with any budget large or small to produce high quality, functional, and stylistic perfection that will leave your guests and you in awe every time you reach for a plate.
If your gorgeous home could use some new cabinets, a granite countertop to tie everything together, or if you simply want to add value to your home and let the experts take care of the details for you, we are here to solve all of your challenges today!
Best Times To Make a Change to Your Kitchen Cabinets
When remodeling your home, or just giving it a facelift for resale, there are so many options, that people can feel overwhelmed and frustrated with the process.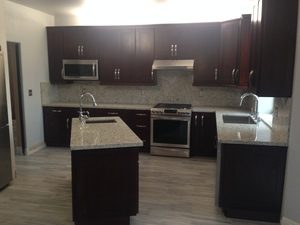 To combat this, our kitchen cabinet experts with 911 Restoration Fresno will take care of you every step of the way, from style choices, to finishes, and hardware.
We have many customers who reach out to us to solve their dated looks with a freshen up, as well as others that are new owners and want to make the kitchen feel like their own.
Another frequent source of kitchen makeovers that we are regularly contacted for is a fresh look before a resale. A new aesthetic in your kitchen can make all the difference to prospective buyers and investors.
No matter what has brought you to a kitchen remodel, we have the skills, professionalism, and variety of options to make it what you've always dreamed of.
There is no better way to add value to your lovely home, than by putting that energy into the kitchen, cabinets, and countertops that you will use for years to come, so give our kitchen cabinet experts with 911 Restoration Fresno a call for an estimate today!
Hardware Options Galore
When it comes to kitchen cabinets and styles, many people feel that the easy part is choosing the type of wood, and aesthetics of the shape it comes in, and then they become transfixed on the huge number of hardware options that can completely transform the look they had already picked out.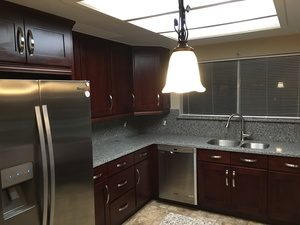 The key is to ensure that the hardware you choose amplifies rather than diminishes the perfection you have chosen with the wood, style, and stain already.
No matter what kind of style you have opted for in your cabinet choices, we offer a wide range of perfect hardware handle and knob options that will give your kitchen just the right final touch.
In concert with our hardware choices, we also offer granite and stone options that will set your kitchen apart from all the rest.
When you take advantage of the variety of styles that we provide both in cabinetry, counter tops, and hareware options, you can dramatically affect the look and feel of your entire home.
Additionally, we are highly skilled at providing incredible value to our commercial clients who want a certain feel to their office kitchens without breaking the bank.
Whether you are a first time buyer, old-hand remodeler, or you just want to improve an existing kitchen, we have the tools, the options, and a staff of highly trained and experienced professionals here to make all of your kitchen cabinet and countertop dreams come true, so give us a call today!