Water Damage Restoration in Fresno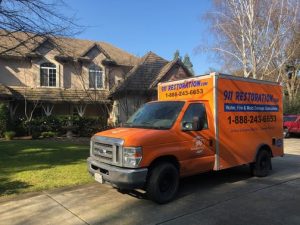 If you need water damage restoration in Fresno, Madera, or the surrounding area, count on 911 Restoration. Our IICRC certified flood cleanup technicians are extensively trained to provide the best solutions in any disaster. They manage everything you need, from water extraction to structural repairs. Our technicians even provide emergency service 24/7. Whether it's a weekday, weekend, holiday, or the middle of the night, we've got you covered for flood cleanup in Fresno, Clovis, or any other local community. 
As a locally owned and operated company, we value you as a neighbor. We care what you're going through and we want to do all we can to make it right.  Water damage can be overwhelming. After all the work you've put into making your house a home or your business a place of inspiration, a pipe burst feels like a massive step backwards. Your mind is probably reeling with questions. Will your property ever be the same? How much will water damage restoration cost? Does insurance cover this? 
Don't worry. We've got all these answers covered, including your insurance concerns. 911 Restoration provides a free insurance consultation to help you make sense of your policy. A water damage restoration expert explains what your provider will cover and which services are charged to you. They also assist with loss itemization, file a claim on your behalf, and bill your provider directly. 
Our flood cleanup crew also goes above and beyond to make sure you don't have to call another contractor. They handle everything necessary to give you and your property a Fresh Start. This includes damage repairs, mold inspection, and mold decontamination. 911 Restoration of Fresno is licensed, bonded, and insured.
Whether you've had a pipe burst, house flooding, or leaky water heater, let us be your number one ally. For reliable, caring water damage restoration and mold removal, call 911 Restoration of Fresno today.
24/7 Emergency Water Damage Restoration in  Fresno
Water damage is always an emergency. The longer water lingers on your property, the worse your damages will be. From water damaged drywall repair to mold inspection and mold decontamination, you could be looking at additional expenses if there's any delay in your disaster response. 
This is exactly why 911 Restoration of Fresno is here for you 24/7/365. In fact, we guarantee a response time of 45 minutes or less. 
And if you're wondering whether we can handle your specific emergency, the answer is yes. We do it all, including:
Winter storm damage

Water heater leaks

Pipe bursts

Washer machine floods

Sewage backups

Property floods

Flooded crawl space

Mold infestations

And much, much more
When the flood cleanup crew arrives at your property, they move quickly to assess the situation and minimize damage. They pack out and store any items they think may be at risk during water damage restoration. If you need a service like boarding up or leak detection to stop the invasion of water, they have it covered. Then, they rush to remove all moisture from your home or business. This means water or sewage extraction as well as structural drying. You can also count on your flood cleanup techs to sanitize the area so your property feels safe and healthy again.
Whether it's residential or commercial, your property is more than a structure. It represents your most dedicated efforts and greatest dreams. We know what it's worth to you. That's why you can always count on 911 Restoration of Fresno for the very best in mold remediation and emergency flood cleanup. Call now and we'll be there in 45 minutes or less.
Water Damage Inspection to Make Sure You Get a Fresh Start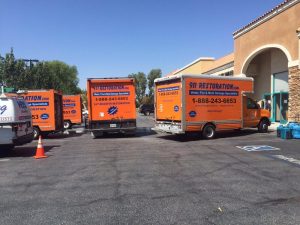 At 911 Restoration, we believe every disaster is an opportunity to rebuild even better than before. When our water damage restoration technicians approach your property, they're focused on giving you a Fresh Start. They do what it takes to make your home or business feel brand new.
Because this is our goal, we make sure every member of our staff is prepared to provide comprehensive service. Every flood cleanup technician is trained in all aspects of property repair. Whether you need roof repair, carpet removal, drywall replacement, or any other form of restoration, they have it covered. They even conduct structural testing to make sure they haven't overlooked any new weaknesses due to water damage.
Our technicians also make sure your property is protected from the long-term damage of mold contamination. They complete every job with a thorough mold inspection. This is important because mold spores only need 24 hours of exposure to a damp surface in order to create a colony. Even minor water damage scenarios present a high risk for mold infestation. To make matters worse, fungus thrives in dark, hidden spaces where the average property owner is unlikely to discover it. Our mold remediation experts examine every nook and cranny during mold inspection to make sure they can truly say your property is clean and clear of fungus.
If they do discover an infestation, these experts are trained and equipped for effective mold removal. It's important to allow our certified mold remediation workers to handle mold removal themselves. Most fungi release dangerous particles into the air. Only mold remediation professionals are properly trained to eliminate these harmful organisms safely. 
After they've completed mold removal, the technicians dehumidify the structure where mold grew. This makes it difficult for mold spores to create a new colony on the same surface. Your dedicated mold remediation crew considers this an essential step for strengthening your property.
For the most comprehensive, compassionate flood cleanup and mold removal around, call the Fresh Start Company. Contact 911 Restoration of Fresno today.