Sewage Backup Cleanup in Fresno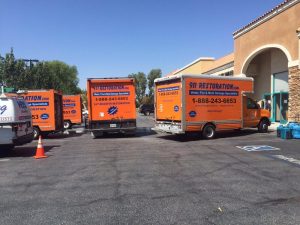 Few experiences are more horrifying than waking up to the stench of sewage or arriving at your business to discover a sewage backup. Don't worry. 911 Restoration provides 24-hour sewage water cleanup in Fresno, Clovis, Madera, and the surrounding area. Our technicians are there for you on weekdays, weekends, holidays, and even in the dead of night. They guarantee an arrival time of 45 minutes or less every single time. Call us at 559-795-1670 and allow us to provide you with a free visual inspection.

Why do we treat your sewage backup with such urgency? Because we know all too well that sewage water damage can be costly and harmful to your health. The longer you live with sewer water on your property, the more likely you are to incur damages such as rotting and mold contamination. Not to mention, a sewage backup brings parasite and disease-causing bacteria into your home or business. Our sewage cleanup crew knows how stressful a backup can be. Their goal is to keep you safe and restore your property as quickly as possible.
You can trust 911 Restoration for a high standard of service and professional transparency. Every one of our sewage water cleanup technicians is IICRC certified. They have completed rigorous training to bring you the most comprehensive services in the Fresno area. We're more than a water cleanup company. We provide full restoration, which means we've got you covered if you need repairs for sewage water damage. Our technicians are even qualified to provide a reliable mold inspection and any necessary mold remediation.
When you're dealing with the burden of a sewage water backup, don't settle for basic water removal. Call the company who serves with compassion and promises a Fresh Start. Call 911 Restoration of Fresno at 559-795-1670.

What Does Sewage Cleanup Involve?
Many property owners aren't entirely sure what they should expect from a sewage water cleanup company. This makes it especially difficult to figure out whether you're receiving the service you deserve. At 911 Restoration of Fresno, we believe excellent sewage cleanup is comprehensive. Certified technicians should provide services that eliminate the immediate problem and leave your property feeling brand new. 
When you call 911 Restoration our workers arrive promptly and work quickly to minimize sewage water damage. They provide a free visual inspection for property owners and pack out and store any items that have the potential to be harmed during cleanup. They then begin sewage extraction. Once your property is free of toilet water, the sewage cleanup technicians sanitize the space thoroughly. They also bring in professional fans to dry the area completely. The structures of your home or business tend to soak up moisture. Even concrete stores water like a sponge. Without structural drying, stored moisture can lead to rotting, warping, and mold infestation. Of course, sometimes these damages are unavoidable. In that case, you can count on our sewage water backup crew for repairs and mold removal.
Our restoration services cover everything. But at 911 Restoration, we believe that genuine customer care means offering more than a wide range of service options. Our sewage cleanup techs want to provide peace of mind and relieve your stress. That's why we also provide a free insurance consultation. If you're not sure if your policy covers a sewage backup or additional services such as damage repair and mold remediation, we can help. A staff member reviews your plan and explains which services your provider pays for. They also assist with loss itemization, claim filing, and direct billing.
A sewage water backup may feel like a nightmare, but you're not in this alone. For sewage cleanup in Fresno, call 911 Restoration and we'll see you through to the other side. Call us at 559-795-1670 and see how we can help.

Make a Full Recovery from Toilet Water Damage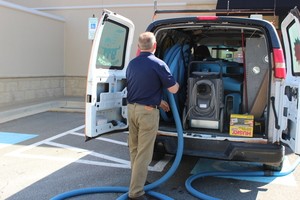 Sewage water damage may take many different forms. Floorboards rot and warp. The floor around your toilet weakens and causes the toilet to wobble. Mold spores settle on damp surfaces and develop into a full-blown infestation. At 911 Restoration, we know that in order to provide true sewage restoration, we have to do more than fix the problem at hand. We need to take those extra steps to make your property as clean and solid as the day you moved in.
Our sewage water cleanup techs do this first by providing extensive sanitization. This is one of the most important steps in addressing a sewage water backup. Black water and gray water both bring dangerous organisms into your home or business. To keep both humans and pets safe from disease, expert sanitization is non-negotiable. 
Your dedicated sewage cleanup crew is also prepared to manage any necessary repairs. Even with prompt preventative measures, you may still incur unavoidable sewage water damage. This happens if a sewage backup is especially severe or went unnoticed for too long. In such an event, you can count on our technicians for top-quality property restoration. They replace floorboards, restore drywall, remove carpet… whatever it takes. These experts are also certified in mold remediation, so you can trust them to ensure you are not left with mold development after sewage water damage.
If you've had a sewage backup in Fresno, Madera, Clovis, or a neighboring community, count on 911 Restoration. We're here for you in any disaster, large or small. Call us at 559-795-1670

Serving the communities of Auberry, Chowchilla, Fresno, Riverdale, San Joaquin, Madera Acres, Sumner Hill, Tarpey Village, Kerman, Hanford, Madera, Clovis and surrounding areas.