Disaster Restoration in Fresno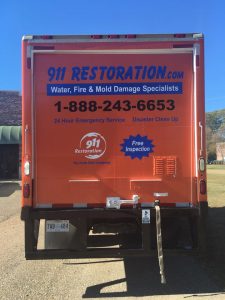 It's hard to plan for disaster. Even with updated earthquake kits and a wildfire evacuation plan, you can't protect your entire property from the forces of nature. But if you need disaster restoration in Fresno, Clovis, or the surrounding area, we can offer you this one consolation:
911 Restoration is always here for you. Call us at 559-795-1670 and allow us to provide a free visual inspection.

Our IICRC certified technicians are prepared to see you through any nightmare. They complete regular, rigorous training in water damage restoration, fire cleanup, mold remediation, and all forms of disaster restoration. They take care of everything you need to get back on your feet after any episode. Whatever structure is destroyed, they repair and replace it. They sanitize your space and remove smoke and odors so your property is so healthy and clean you'll think it's brand new. Our technicians even come equipped with safety and hazmat gear so they can handle hazardous situations such as chemical spills and downed power lines.
At 911 Restoration, we believe in a well-rounded approach to customer service. Our disaster and water damage technicians seek to provide peace of mind through high standards and compassionate attention. Their goal is to take the burden of rebuilding off your shoulders, including concerns like filing an insurance claim. A member of the disaster restoration staff sits down with you to review your policy and explain your coverage. You get a clear picture of which services your provider covers and which costs fall to you. Then, we assist with inventory and loss itemization, file a claim for you, and bill your provider directly.
You may be in the midst of a nightmare, but we're here to guide the way to a bright new beginning. For compassionate, comprehensive disaster restoration in Fresno and beyond, call 911 Restoration today at 559-795-1670.
Residential and Commercial Water Damage Restoration in Fresno
We believe that providing disaster restoration in Fresno means being prepared to serve any property. Whether you own a single-family home, a condo, a storefront, or a warehouse, we'll take care of you. 
While our disaster restoration technicians can serve you through any crisis, the most common need is water damage restoration. Even in non-water incidents such as earthquakes and fires, properties are still hit with resulting pipe bursts, fire hose floods, and other side effects. Water damage is always an emergency, as lingering moisture can lead to costly problems. 911 Restoration promises a response time of 45 minutes or less when you call for water damage restoration. Our flood cleanup technicians are available to you every hour of every day, including weekends and holidays. 
You can count on this crew to eliminate every drop of water from your property. They use heavy duty fans for structural drying and dehumidifying, and they sanitize the area for your safety. Beyond basic water cleanup, our technicians conduct structural testing to make sure your property stills stands strong. They perform a thorough mold inspection and handle mold removal personally. 
When you call 911 Restoration for water damage and disaster restoration in Fresno, you never have to find another contractor. We take care of everything you need to get back on your feet.
The Fresh Start Disaster Cleanup Company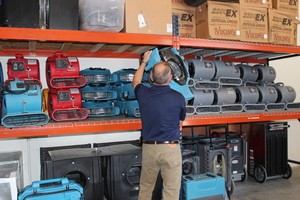 911 Restoration of Fresno is built around the Fresh Start philosophy. We believe even the worst disasters are an opportunity to rebuild even better than before. As a property owner who has just felt the shock of an out-of-nowhere nightmare, it may be hard to imagine a Fresh Start. That's fine. Our disaster restoration technicians know it's possible, and they're determined to make it happen for you.
To us, you're not just another invoice. You're a neighbor who has been through a devastating event. As a locally owned and operated company, we take pride in our community and want to maintain the health and beauty that makes Fresno such a special place to live and work. Our disaster restoration crew puts all they have into making your property new again. They communicate with you regularly so you know exactly what they're doing and why. And they work strategically to minimize damage and keep your costs low. This includes packing out and storing at risk belongings to ensure unharmed items remain safe during restoration.
If you need disaster restoration in Fresno, Madera, Clovis, or any other city, you are likely going through one of your greatest life challenges. Your mind is reeling and your heart is broken. Our goal is to help every customer find relief and reassurance through 911 Restoration. We're here for all your questions, and you have our undivided attention.
For compassionate, neighborly care, trust 911 Restoration of Fresno. Call us at 559-795-1670

Serving the communities of Auberry, Chowchilla, Fresno, Riverdale, San Joaquin, Madera Acres, Sumner Hill, Tarpey Village, Kerman, Hanford, Madera, Clovis and surrounding areas.