Water Damage in Fresno
911 Restoration of Fresno
From water damage to property fires, there's no telling when disaster will strike. Fortunately, you can always rely on 911 Restoration for the very best water damage restoration, commercial restoration, fire damage restoration, and mold remediation in Fresno, Madera, and beyond. Our technicians are on-call for you 24 hours a day, every single day of the year. They even guarantee an arrival time of 45 minutes or less for emergency situations.  Call us at (559) 795-1670 and allow us to offer you a free visual inspection.
At 911 Restoration of Fresno, we respond in an instant, because our goal is to provide immediate peace of mind. We know the stress you feel when your greatest asset is at risk. Our technicians do everything they can to put your mind at ease. This means prompt service, transparent practices, and even a free insurance consultation. We work with all providers, explain which services are covered, and file all the paperwork on your behalf.
You won't find a better, more qualified restoration contractor in Fresno. Our staff is IICRC certified and extensively trained to handle all aspects of property restoration. In every disaster, they fix the immediate problem, the source of your issue, and even repair and strengthen your property for the long term. 911 Restoration is licensed, insured, and bonded. We have the resources of a nationwide company and are locally owned and operated, so you can count on neighborly care.
You may not be able to protect your property from fire or flood. But you can give your property a Fresh Start by making 911 Restoration your first and only call in a disaster. Reach out today. We'll take it from there.
Service area map
Water Damage Restoration
If you've got water damage in Fresno, Clovis, or the surrounding area, you've got a friend in 911 Restoration. Our flood cleanup technicians are there for you in every water disaster, from pipe bursts to storm damage. They don't just handle water extraction and structural drying. They do everything necessary to make your home or business brand new again. 
Our water damage restoration services include the basics like water removal, sanitization, and professional drying. Your dedicated flood cleanup crew also handles emergency services such as boarding up, roof repair, leak detection, and packing out and storing at-risk items. And because their goal is to give you a Fresh Start, the team handles any repairs necessary. This includes carpet removal and drywall replacement. They even conduct a mold inspection and take care of mold remediation themselves.
Water damage can be devastating. But with 911 Restoration of Fresno, the solution is closer and easier than you think. Call 911 Restoration and breathe easily. Call us at (559) 795-1670 and see how we can help.

Client Testimonial
Sherry M.
"I would give them 6 stars if I could. I had to deal with a flood in my business, an absolute nightmare for every business owner. 911 Restoration came right away, and they are so professional and efficient. Even after everything was done they followed up and made sure everything was back to normal. A+ customer service. Thank you!"
Sanitization Services & Disinfection Solutions
Thanks to the spread of coronavirus, daily life has changed as we currently know it. The pandemic has affected every business and person on a global scale. For this reason, it's important we all work to contribute to the solution. One thing we can all do is maintain our personal hygiene during this challenging time.
In the case of property owners, they can contribute even further by taking the time to ensure their buildings remain sanitized according to protocols. Adhering to these protocols is how the people who come and go will remain as protected as possible. For this reason, 911 Restoration of Fresno is ready and able to deliver sanitization services along with various disinfection solutions for both residential and commercial properties. Every one of our technicians maintains their training to ensure full compliance with all current CDC and EPA protocols in an effort to ensure optimal results with our sanitization services. By working together we can beat this problem and ensure everyone gets the peace of mind they need.
Mold Removal
Whether you own a home or a business, mold contamination can be a major interruption to your life. Fungus destroys the material that holds your property together and poses a risk to your health. The good news is that if you need mold removal in Fresno or the surrounding area, your best resource is only one call away.
Our mold remediation crew has undergone rigorous training to provide you with the safest, most comprehensive mold decontamination service. Their mold inspections are certain to uncover every hidden colony. This way, you can be confident their mold removal service eliminates every trace of growth on your property. You can also rest assured that our technicians use the safest techniques to clean mold without spreading dangerous particles. Then, to ensure your property is protected in the long term, they complete mold remediation with structural dehumidifying. 
If a nasty mold infestation threatens to take over your home or business, don't panic. Just call 911 Restoration of Fresno at (559) 795-1670 for mold removal you can trust.
Sewage Backup and Cleanup
Nothing turns a sparkling property into a contaminated nightmare like a sewage backup. Our sewage backup cleanup crew understands the stress you're under, and they know what it takes to put your mind at ease.
You can reach us 24/7/365. When you call 911 Restoration of Fresno, help is guaranteed to arrive in 45 minutes or less. Our sewage cleanup technicians work at top speeds to extract the sewage and dry the area completely. They also sanitize your property to ensure your safety against disease-causing bacteria and parasites. Once the crew is sure your home or business is dry and clean, they test for structural damage. If there's any water damage from the sewage backup, they handle repairs personally.
All along the way, our technicians treat you with compassion and respect. They make your beloved property look and feel as if that nasty sewage backup never happened. Call 911 Restoration of Fresno for a Fresh Start.
Fire and Smoke Damage Restoration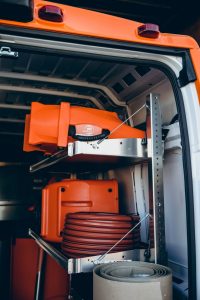 Let 911 Restoration of Fresno be the first and only call you make for fire damage restoration in Fresno. In fact, consider us your Fire Information Center. We offer you all the guidance you could need following a property fire or puffback cleanup. There is no question too simple or too complicated for our staff. We know how the mind reels after a devastating disaster, and our only goal is to deliver a no-stress Fresh Start. 
Our smoke removal and fire damage restoration technicians have all the tools and knowledge necessary to get you back on your feet. They use sandblasting and other advanced techniques for soot and ash removal. We also provide permanent odor and smoke removal, leaving you with the clear atmosphere of a beautiful property. Whatever damage has been done to your home or business, the fire damage restoration crew is on it. They are experts in everything from roof repairs to flooring replacement. They even take care of water damage restoration and mold inspection if your property was flooded by the fire hose.
It may feel like it's all over for your and your property, but 911 Restoration of Fresno can make this a new beginning. Call us now at (559) 795-1670.
Disaster Restoration
Whether it's a wildfire or an earthquake, a disaster is not only devastating; it can also make you feel lost in the chaos. The technicians at 911 Restoration of Fresno are here for you in any event. Our disaster restoration crew approaches your nightmare with compassion and understanding. When they're at your property, you are their first and only priority… no matter what else is going on around you.
They're also trained and equipped to respond to any form of property damage. Our experts are all IICRC certified in property restoration. They do it all, from water damage restoration to smoke removal to structural and surface repairs. Whatever is contaminated, broken, or destroyed, they replace it, repair it, or remove it. We work with every type of insurance and even walk you through the insurance process. You've got enough to think about without having manage loss inventory, too. 
To put it simply, you don't have to do this alone. For compassionate disaster restoration in Fresno and the surrounding area, call 911 Restoration today.
Commercial Restoration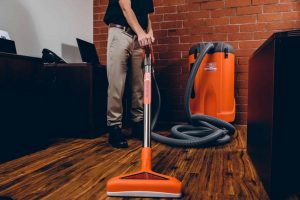 Did a pipe burst in your place of business? Or do you need commercial mold remediation? Or maybe your shop has recently endured a terrible fire. Whatever the problem, you can rest assured that 911 Restoration isn't just for residential properties. We offer full-service restoration for businesses in any disaster.
As a commercial property owner, your needs are unique. You may have special equipment at risk, guests to worry about, or unusual architectural challenges. Our commercial restoration technicians are trained to manage any eventuality. We also provide 24/7 emergency service, because we understand that you can't afford to close your doors for very long.
Every service we provide is done with the goal of giving you and your property a Fresh Start. This means you can expect comprehensive work, including repairs and mold inspection. 
The bottom line: we don't leave until your business property is fully restored to its former glory. For the sake of your company, your clients, and yourself, call 911 Restoration now at (559) 795-1670.