Water Damage Fresno
911 Restoration Fresno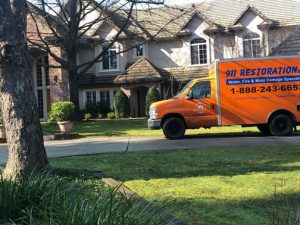 911 Restoration Fresno is a home and business repair company located in Fresno, California and always ready to help those in need. In order to best serve the community, our water damage Fresno crew follows offers these benefits:
You get help 24/7/365
Same-day service for all emergencies
45-minute response time.
Free water damage estimate
We believe that everyone deserves a second chance after experiencing a home accident. This relies and depends on bringing people the most positive attitude to every job, and doing it correctly.
We do not believe in taking shortcuts, and value your trust, so in our damage estimate we elaborate the entire process for you. This is the embodiment of the fresh start.
If you are in need of this level of dedicated service, then call 911 Restoration Fresno, today.
Water Damage Restoration
The water damage Fresno team is IICRC and EPA certified. This means that we have the know-how to work on all homes and businesses. Everything from water damage and its effects will be taken care of in a timely and professional manner.
On top of that, we are licensed, bonded, and insured. This means that we have you covered for all your bases. Your home is in good hands.
Restoration length varies depending on the amount of work that needs to be done. One thing we can guarantee you is that we will get your home back to a brand new condition as fast as possible because your peace of mind depends on it.
Disaster Restoration
Disaster may come in many shapes and forms, so you should call the restoration Fresno team because we can do it all. For example, in the event of a flood, then the damage spans for more than simple stagnating water.
It soaks into materials and spills into hidden corners. Therefore, we use the most top of the line equipment in order track moisture and extract it. Using infrared cameras with sophisticated dehumidifiers, and blowers allows us to vaporize moisture fast.
On top of that, any and all reconstruction that needs to be done is taken care of as well. That is what we mean when we say that we do it all for you.
Call 911 Restoration Fresno for the fresh start you deserve that is provided by the disaster restoration team.
Sewage Backup
Sewage backup Fresno team can handle any type of category 3 water damage. They will support you whether you are facing flood crisis, storm water, or raw sewage.
The team here is unique in that they arrive to all jobs with all tools needed to handle whatever may come their way. And that is absolutely crucial in home restoration because the damage may come in a bunch of shapes and sizes.
We wear hazmat suits, and know how to apply caustic chemicals that remove and sanitize your space. Any germs and all mold spores are eliminated, so that you can breathe easier. The safety of you and your family requires that we pull out all the stops.
Call 911 Restoration Fresno when you need the fresh start.
Fire Damage
The water damage Fresno team is capable of everything including fire damage restoration. When you call us for cleaning services after a disaster, rest assured that it will be done as thoroughly as possible.
In every corner of your home fire damage can sit, so we look high and low to get it all out. See, smoke is formless. It will scatter a bunch of debris all over the place, thus leaving room for you to encounter it years down the line.
For this reason, we are excruciatingly detailed. We will pull your vents apart, soak them in sanitizing solutions, and have them smelling fresh. And, we do this for almost all things in your home that needs cleaning.
The fire damage Fresno team has your back, just give us a call for expedient care.
Mold Removal
Fresno residents should always be on the lookout for mold because removal services should be hailed in the moment it is spotted. The reason being is that it can damage your health. It can cause headaches, exacerbated flu symptoms, and you may have to deal with unnerving odor.
When you need a mold removal Fresno team, call 911 Restoration.
Our restoration team has what it takes to get you on the path of a fresh start. The expert touch we put on every job makes all the difference to every breath you take. Moreover, the decontamination job we provide you is meant to cater to the emotional side of the problem as well.
Restoring your home means restoring your confidence. But, moreover, it also means being there for any and all questions you might have. With our positive professional approach to water damage repairs, we make ourselves available night and day, so you can always reach out to us for the help you need.
The difference of a good restoration job, and a superb one is in the details. And we are the most meticulous restoration team around.
Give us a call when you need mold removal Fresno services that are guaranteed to last.