Fire Damage Restoration in Fresno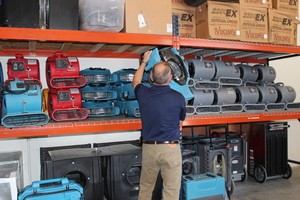 Your home is your refuge. Your business is a testament to your drive and dedication. Whether you own a residential or commercial property, fire and smoke damage can have devastating consequences. If you're overwhelmed by fire damage or a puffback disaster, take a deep breath and call 911 Restoration of Fresno. We're here for you in any disaster, and we give you a Fresh Start with complete property restoration. Call us at 559-795-1670 and allow us to provide you a free visual inspection.

Whether you need fire damage restoration or puffback cleanup, your mind is most likely overrun with questions and worries. Consider us your fire information center. Our fire cleanup experts are always here to answer any questions, big or small. Our IICRC certified fire and smoke restoration technicians provide a free visual inspection for property owners. We even have you covered with a free insurance consultation.
As a locally owned and operated business, 911 Restoration is highly motivated to serve our neighbors with the best fire cleanup in Fresno and the surrounding area. Our fire and smoke restoration techs take care of everything. And by "everything," we mean everything, including damage repairs. Has your property been flooded by the fire hose? We even provide water damage restoration, mold inspection, and mold removal.
It's safe to say that when you call 911 Restoration of Fresno, you never have to make a second call. We're your one-stop shop for fire restoration and puffback cleanup. Our goal is to turn this disaster into an opportunity for a Fresh Start.
Stop worrying about the ruins of your past. Call us today and let us set you up with a fully restored property and a bright future. Call us at 559-795-1670 and see how we can help.

Complete Property Restoration After Fire Damage
Property owners often feel overwhelmed by fire and smoke damage simply because these forms of destruction are so complex. If you need fire damage restoration, you could require everything from ash removal to roof repair to flood cleanup. If you need puffback cleanup, you need services such as soot removal and permanent odor removal. Rest assured that our certified technicians are up for any challenge. They are extensively trained and equipped to do whatever it takes to make your home or business brand new.
When the fire damage restoration crew arrives on the scene, their first order of business is to assess the damage. They want to approach fire cleanup and smoke restoration intelligently, prioritizing the most immediate needs to minimize your damage. If any of your belongings are still unharmed, the smoke removal technicians pack them out and store them for safekeeping. That way, you don't lose anything else during the puffback cleanup process. 
Then, the workers focus on odor and smoke removal. They use sodablasting to eliminate every trace of soot and ash on the surfaces of your property. They clean your furniture and dishes. And they use advanced procedures to seal odor-causing smoke particles trapped in porous surfaces. By the time our smoke restoration team is done with your property, it will feel like a brand new home or business.
Our crew also provides full property restoration. Whatever has been burned, stained, or destroyed, these experts have it covered. They do it all, from roof repair to carpet replacement. There is no material or structure they cannot restore. They also dry out your property after fire hose flooding and inspect for mold.
Along the way, your dedicated fire cleanup and smoke removal crew communicates clearly about every service they provide. We know property owners are especially vulnerable in the wake of a disaster. Our goal is to earn your trust with transparent business practices and open communication. Don't hesitate to ask our puffback cleanup techs any questions you have about the process and your options.
As overwhelmed as you feel today, we promise that a new beginning is just around the corner. Call 911 Restoration of Fresno for a Fresh Start.  Call us at 559-795-1670

Does My Insurance Cover Fire Damage Restoration?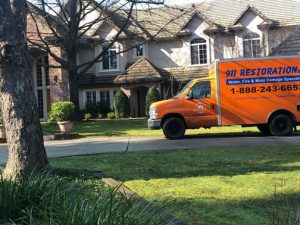 Wondering about the cost of fire damage restoration or puffback cleanup? It can be a complicated subject. The fire cleanup and smoke removal processes often involve several different services. Even if your insurance covers fire damage restoration, it isn't immediately clear which specific services your provider pays for.
If you've had a fire or puffback, you don't need another thing to worry about. We make handling insurance as easy as possible with a free insurance consultation. A member of our fire and smoke damage staff sits down with you to review your policy. They clarify which services your insurance covers, from smoke removal to drywall repair to water extraction. They do all they can to make sure you go into the process with eyes wide open, knowing what your provider pays for and which costs fall to you. 
We even help you with the complicated paperwork. If you've lost any belongings to fire or smoke damage, a team member assists with inventory and loss itemization. They file a claim for you and bill your provider directly so you don't have to give it another thought. 
You're not in this alone. If you need fire damage restoration or puffback cleanup in Fresno, Madera, Clovis, or the surrounding area, count on 911 Restoration of Fresno. Call us at 559-795-1670